Stories and Pictures #23 – #33
Click on any picture to enlarge it.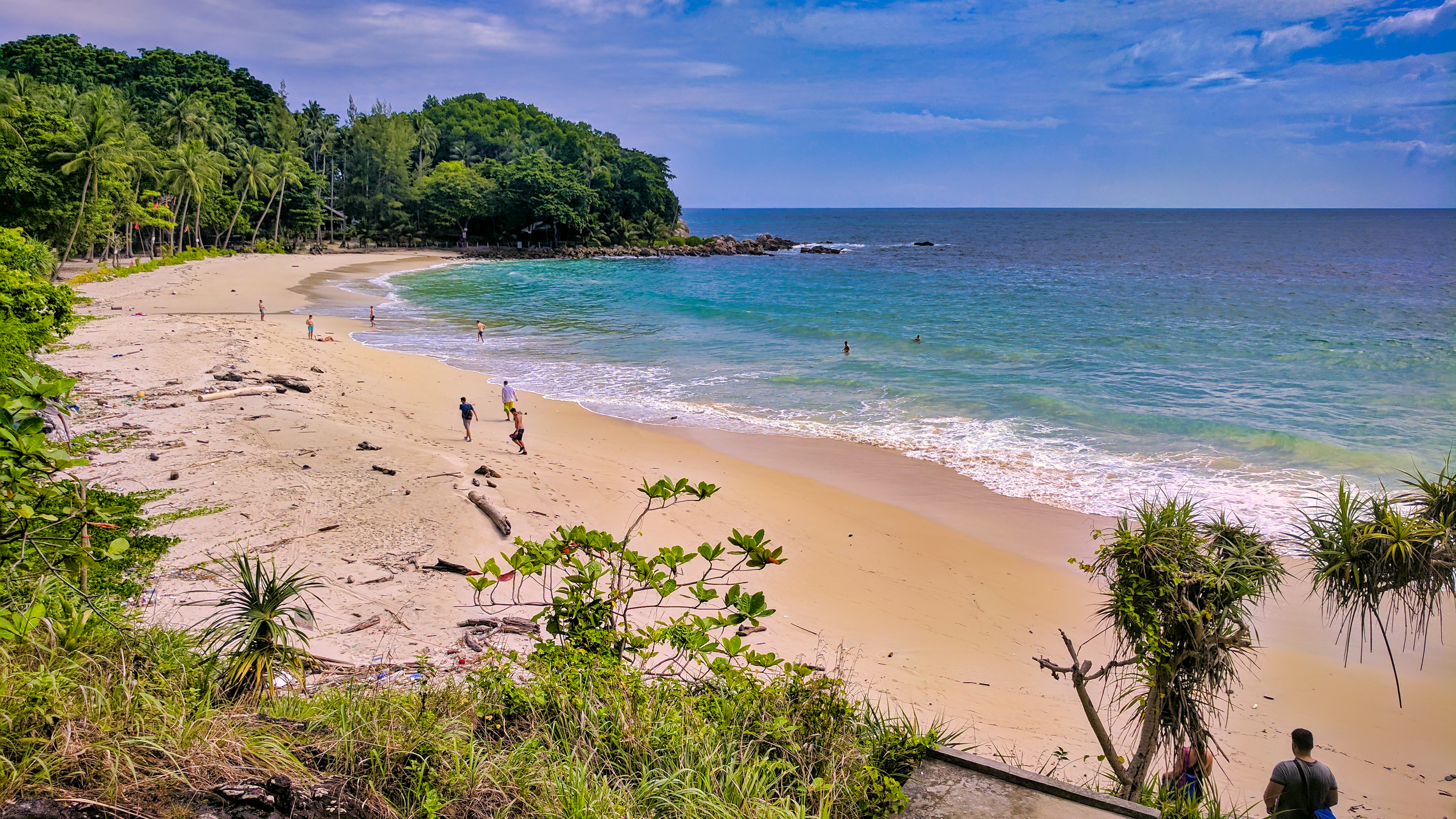 I knew I wanted to visit Thailand, but where? I searched for "best beaches in Thailand". After about 30 seconds of research, Freedom Beach came up. Being a libertarian, that was it. I was done searching. I wanted to go there. I found accommodation nearby and booked my flight.
I could see on the map that it wasn't a normal, public beach with parking (by the way, Google Maps describe the place as having umbrella rentals and dining. I didn't see any of that.). I found a blog that said the only way to get there was to pay 1,500 Baht ($45.26) to a local boat driver to take you there. My instincts told me that sounded ridiculous. I was right.
In my three trips to Freedom Beach, I saw a total of about 40 people there. I never saw any boats coming in or going out. All of the people I met told me they got there by taxi or motorbike.
There are two paths that each take you down to the beach. If you drive to the northern path (those gates will be open) from the north, the road is a little treacherous. If you drive to the southern path from the south, the road is longer and a lot more treacherous – with large cracks in the dirt road that were likely caused by an earthquake. Is it worth it to navigate a tough, short road and save nearly $40? Absolutely!
When you get to the entrance at the top, if you pay 200 Baht ($6.03), they'll let you go down the path to the beach. Both paths are the same price. However, the northern path is much, much better than the southern path. The northern path has food and drinks for sale and the path itself is maintained a lot better.
At that point, just walk all the way down, around the rocks, over some little streams, and through a narrow, smaller path until you're at the beach. I hope these tips help you get to Freedom Beach!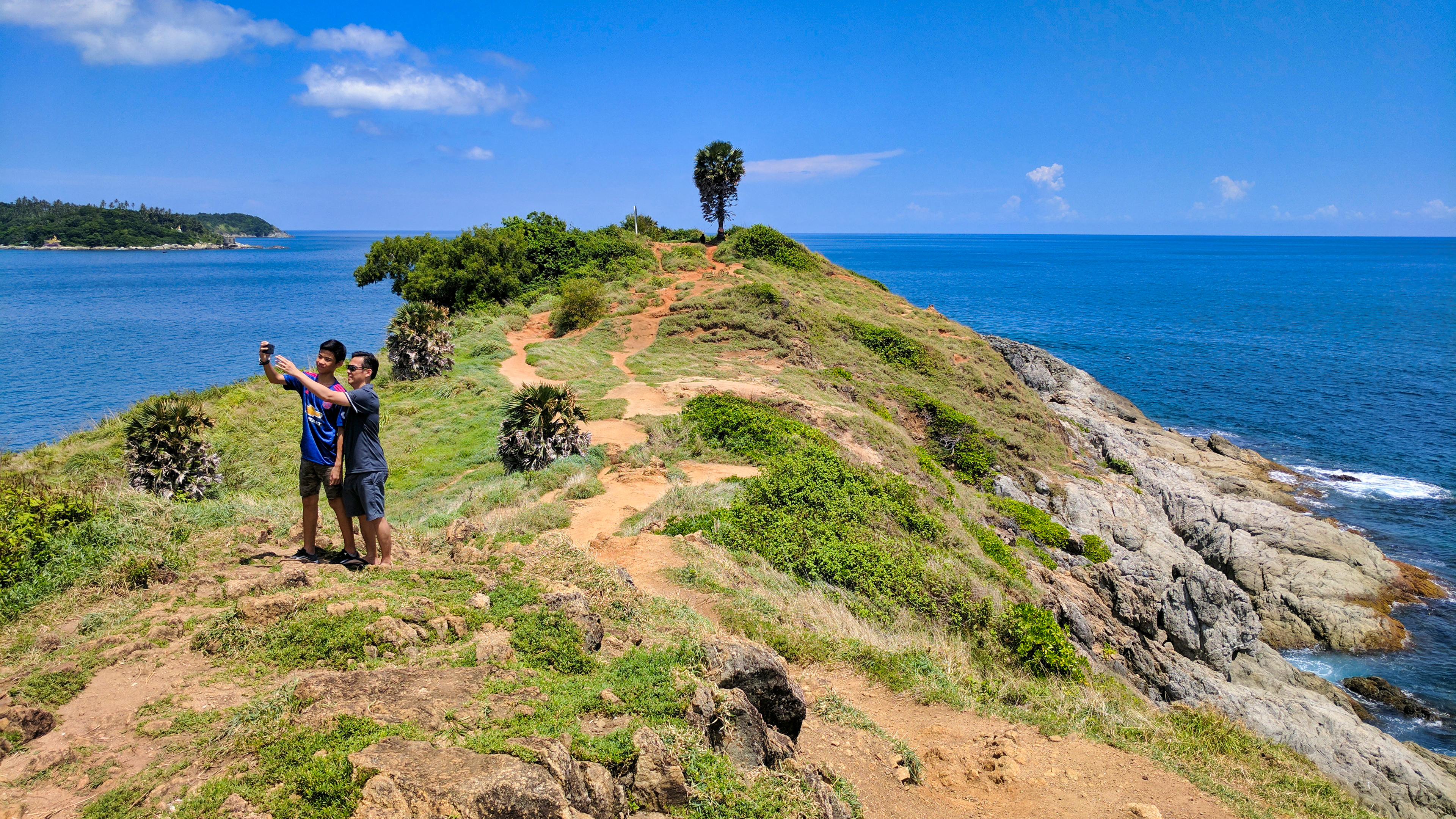 Promthep Cape is the very southernmost tip of Phuket.
I don't do this often – and I know this sounds a little weird – but sometimes I like taking pictures of tourists who are taking pictures. When I saw this father and son taking a happy selfie, I couldn't help myself. I had to take one of them. It was a great moment and I think it captures the positive, peaceful vibes that this area gave me 🙂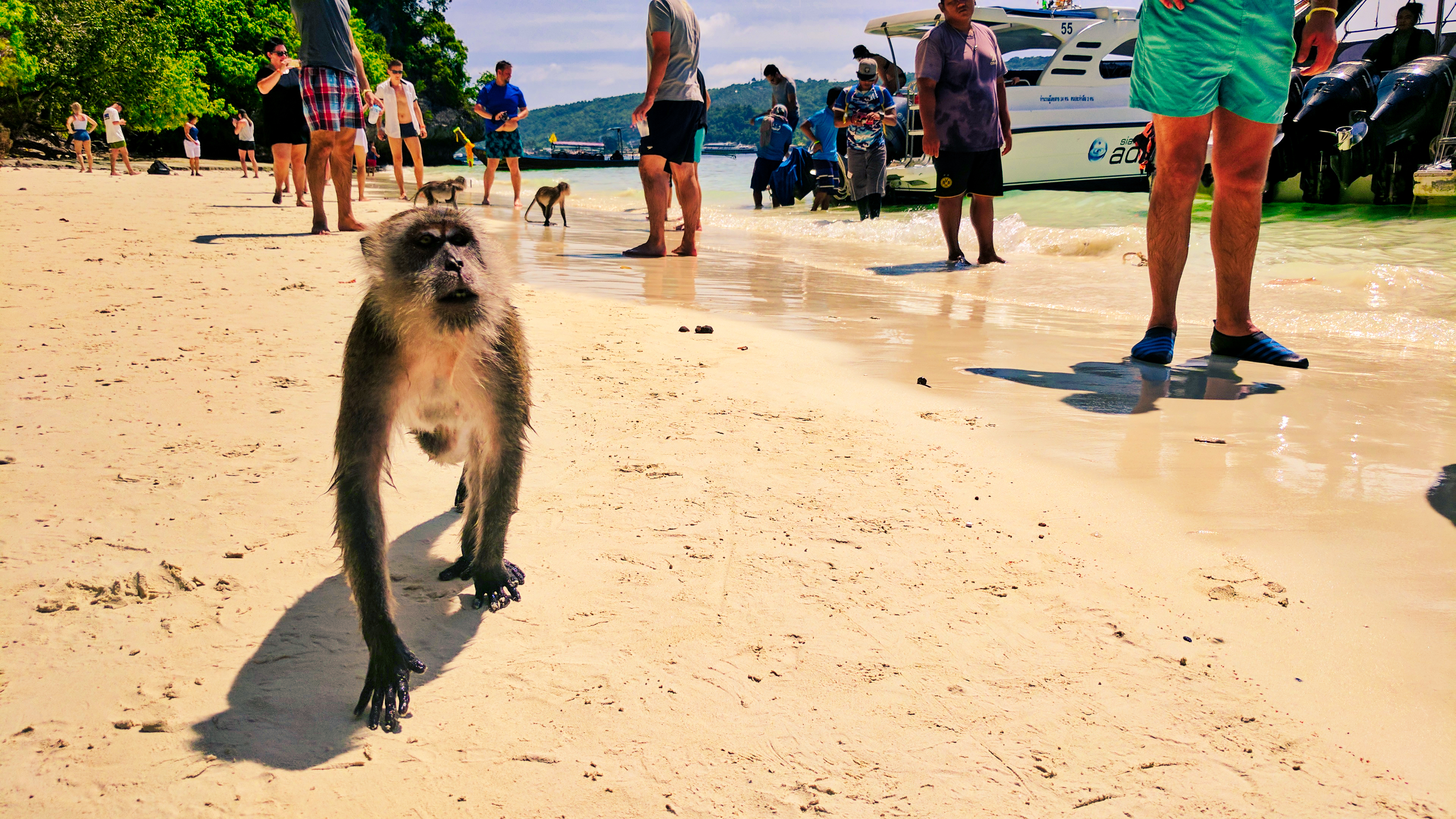 Monkey Beach, Ko Phi Phi Don Island, off the east coast of Phuket, Thailand
I met some monkeys while on a 7-location, 5-island boat tour. They were all over the beach – moms, dads, and babies. The tour guides would occasionally have to splash the monkeys with water to keep them away from the boats.
This tour was also memorable because I made some very interesting, new friends: a group of four Iranians. I was nice to them, just like I was to the other passengers. Then, they told me they were from Iran. From then on, I went out of my way to be extra nice to them.
The tour guide gave us important instructions in very broken English with a heavy Thai accent. I was really struggling to understand her. I could see the Iranians were struggling a lot more than I was. I walked over to the one Iranian who seemed like he understood English the best among them (I believe his name is Sasan). I explained what the tour guide was saying, slowly and carefully. He understood and translated to his friends in Farsi.
When we got on the boat, I chose to sit next to Sasan. We started a conversation. Eventually, he asked the question that I had been preparing for, "where are you from?" With a giant smile, I replied, "America". His eyes opened wide and his face lit up with concern. "It's OK, I come in peace!", I assured him as I threw up two peace signs with my hands. He smiled, turned to his friends, and told them I was American. They had the same reaction as Sasan, and I responded the same way as I did to Sasan – a smile and double peace signs.
From then on, we had a great day together, sharing pictures, videos, and stories.
I've always felt like, when you travel abroad, whether you like it or not, you're an unofficial ambassador from your country. Being able to show four Iranians that it's possible to be friends with Americans was one of the most memorable moments of my trip. I'll always cherish that opportunity.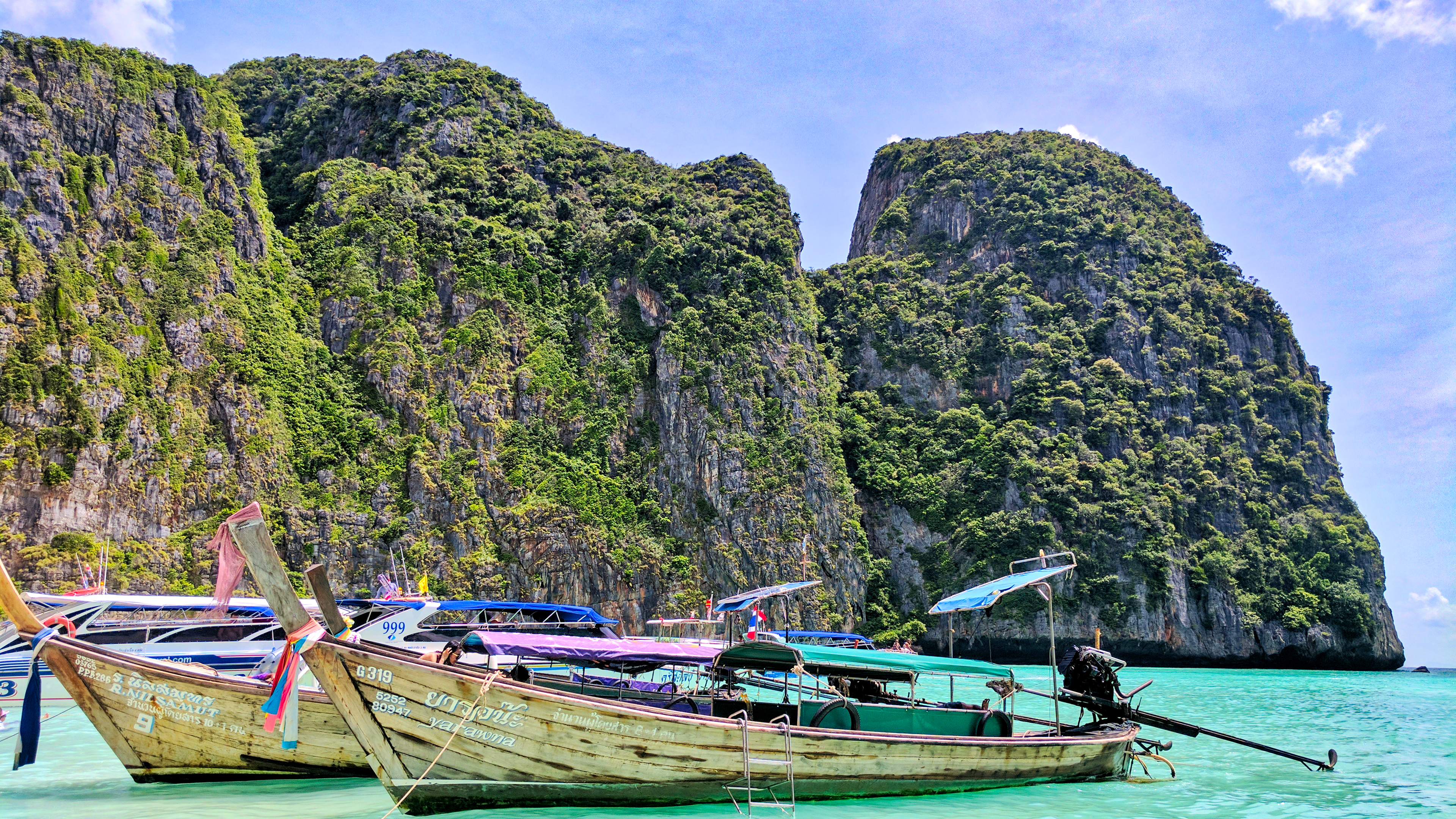 To be honest, I'm not sure which island this is. So many tourists went that by large speedboats like we did. The boats in this pic are so small. I can't imagine how they made it there and back. It's a long way in open water with big waves. They must be great drivers!
This tour drove past the island where they filmed, The Beach, staring Leonard DiCaprio. No boat is allowed to go to that beach, unless they have a special license and pay a ridiculous fee. Needless to say, I didn't care that much. All of the other islands were just as beautiful!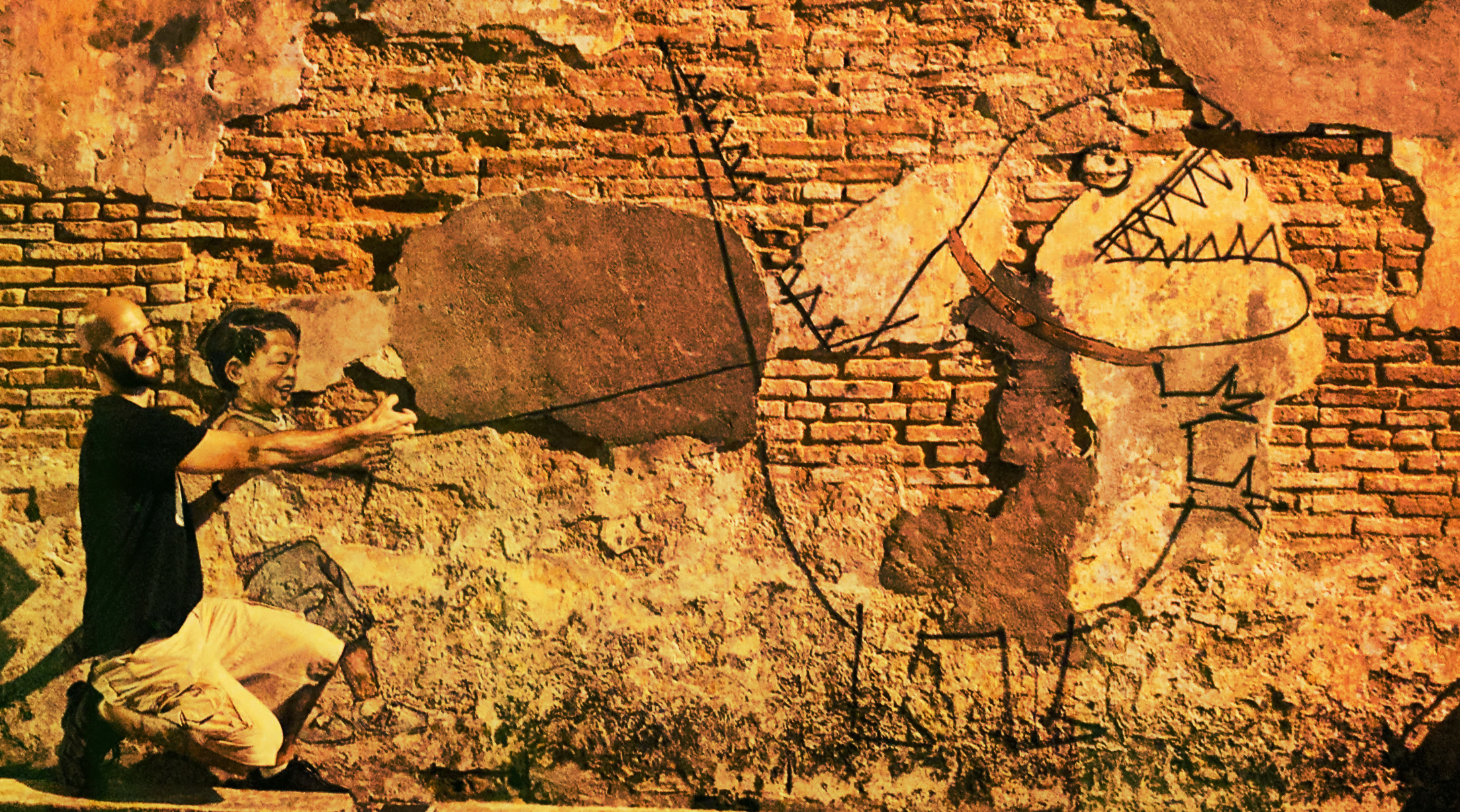 Is it art? Is it graffiti? It depends on if the owner of the property allowed the art to be drawn on their walls. Let's assume the owner is OK with it!
Georgetown, Malaysia is well known for its street art. Unlike most street artists around the world, these take their work to the next level – they make art that people want to pose with! The two most creative pieces I saw were quite unique. In two separate pieces, the artists cut a bicycle and a motorbike in half, fixed them to the wall, then designed the art around them. Fascinating!
The second monkey beach on my adventure! This was my favorite of the two – mostly because this one wasn't in Thailand! (sorry, not sorry, Thailand)
Also, I went to this one with some Malaysian friends.
I remember the light hike to the beach took about an hour. It was well worth it! There were vendors selling food, drinks, ATV rentals, jet ski rentals, and chances to interact with the monkeys.
That was also the first time I saw a woman on a beach in a burka. It was quite shocking, truthfully. The men – I assume they were the husbands – were in normal beach outfits, while some of the women were in complete, full burka, with their heads and faces completely covered. You definitely don't see that in America, do you?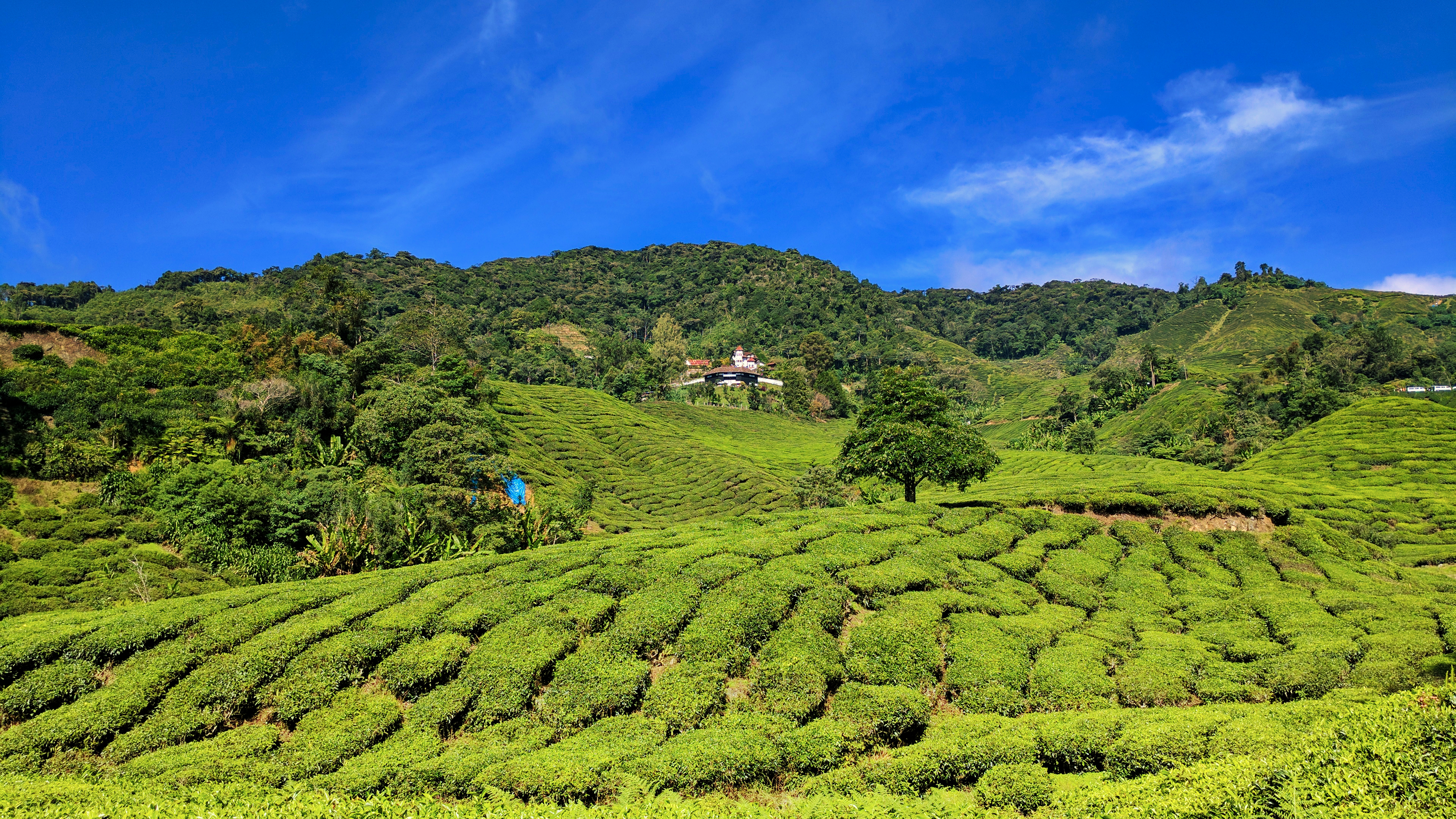 The legendary, majestic, beautiful Cameron Highlands of Malaysia go on, seemingly, forever. This was part of my 10-day tour of Malaysia and Singapore. I rented a car and drove 2,401 km (1,492 miles). If you want to get to the same place I went to, just go down this road.
I'll warn you, though. Driving down this road is an absolute nightmare. In most places, there's only room for one car. I was constantly backing up, waiting for somebody else to back up, or pulling over as much as I could to make room to pass each other. With hundreds of people traveling here every day, I have no idea why they don't make these roads better than they are.
In other words, I'd recommend renting a motorbike or getting a tour guide to drive you through here instead of driving yourself.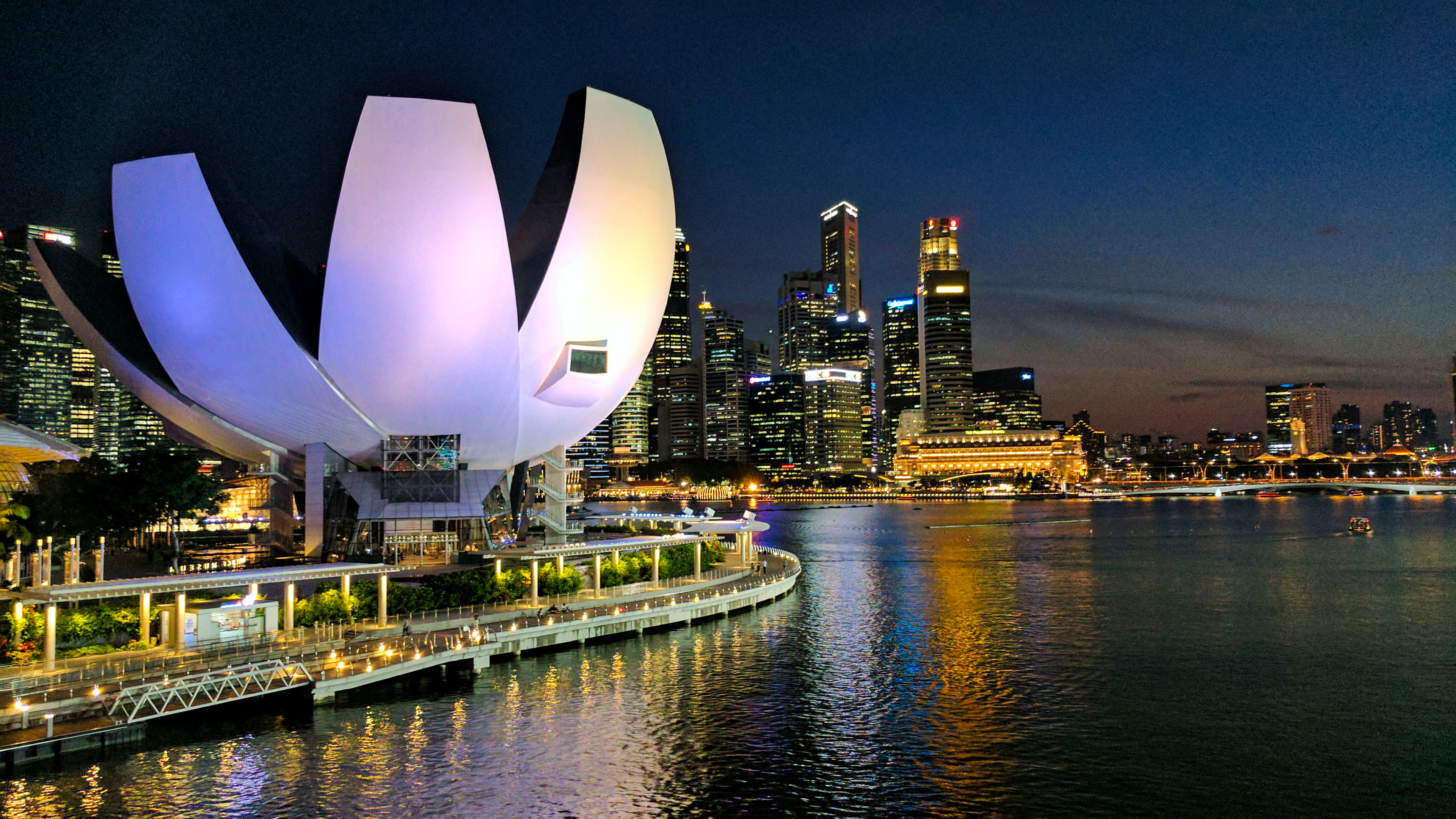 This view is very famous. I took this pic from the Helix Bridge. There's a nice platform on the bridge. Pretty much everybody who goes to Singapore takes this picture.
Due to many factors, I decided to stay two nights in Jahor, the Malaysian city that borders the wealthy island nation of Singapore. Then, I'd go over to the bridge
During the first few days of my 10-day tour, I drove so much, did so many things, and got very little sleep. I was exhausted. I checked into my accommodation, went to dinner with another guest, talked to him about what he did in Singapore, and went back to the accommodation. While researching what to do in Singapore the next day, I fell asleep, woke up, and thought, "I'll figure this out tomorrow". Then, I went back to sleep.
The next day, I set off with a few ideas, but really no plan on what I was going to do. I walked up to the immigration officer. I knew what he was going to ask me. Then it hit me.
"What are your plans in Singapore?"
"I'm going to walk across your country today."
He looked at me like I was the weirdest tourist he'd ever met. He was right! It took me 7 1/2 hours to walk across Singapore. Yes, I'm a little crazy, a little weird. I walked across an entire country in a day. I think that's hilarious and I don't really care what anybody else thinks 🙂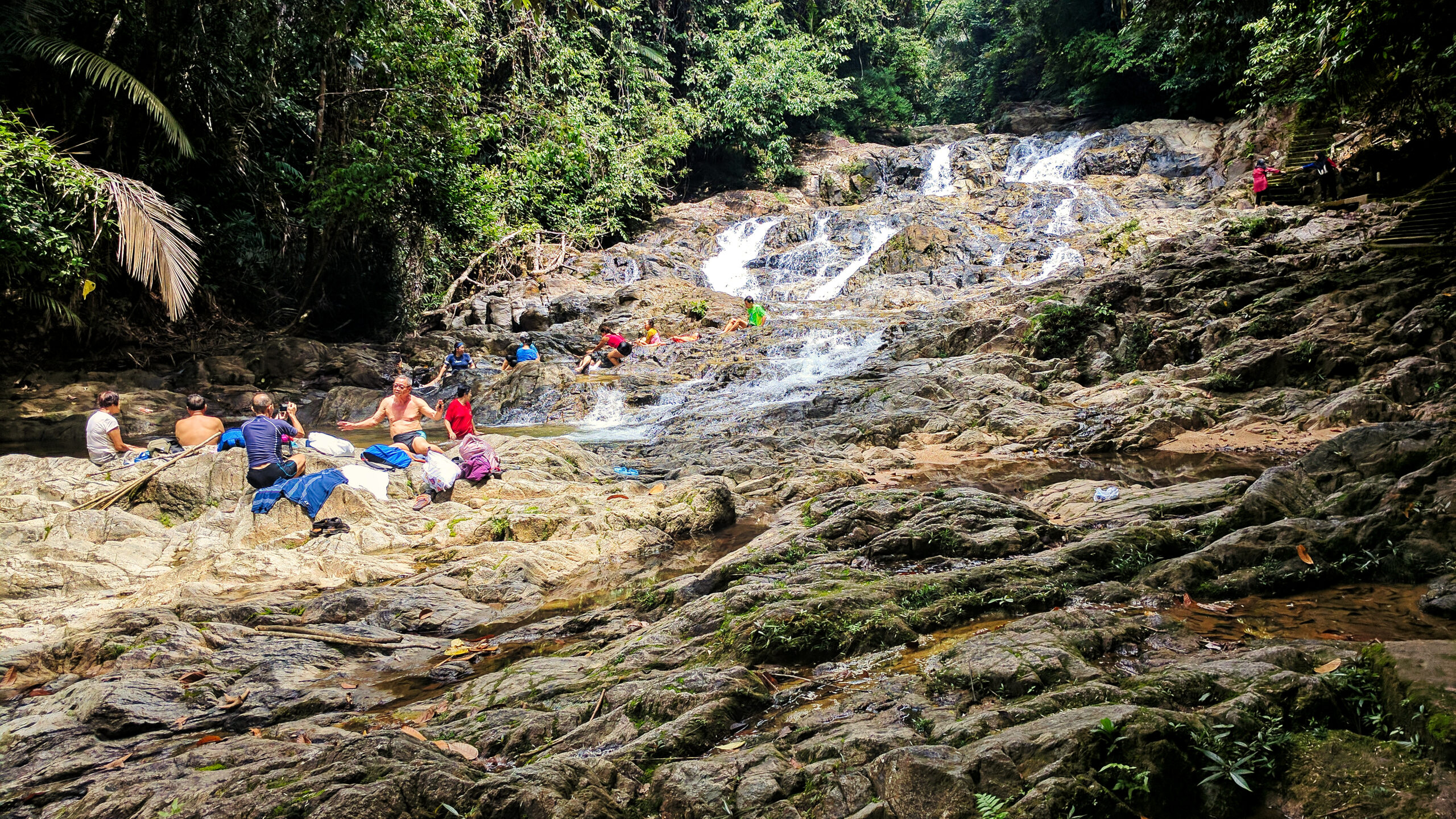 Malaysia – so much beauty, so little time! I drove up to Lake Kenyir with the intention of renting a kayak and relaxing on the lake for a few hours. That changed after I spoke to a few people at the lake. I decided to take a boat tour instead. We went to the waterfall in this picture. and the Butterfly Museum – a butterfly/insect/reptile museum that's on a small island just barely big enough for the building. Peculiar, but very cool for visitors! Though, you can imagine being an employee there. You'd have to take a boat to work. Then, you're stranded on a small island until they come to pick you up at the end of your shift.
There are a few waterfalls at the lake. I'm not really sure which one is in this pic. If you want to know how to get there, this is where I parked my car.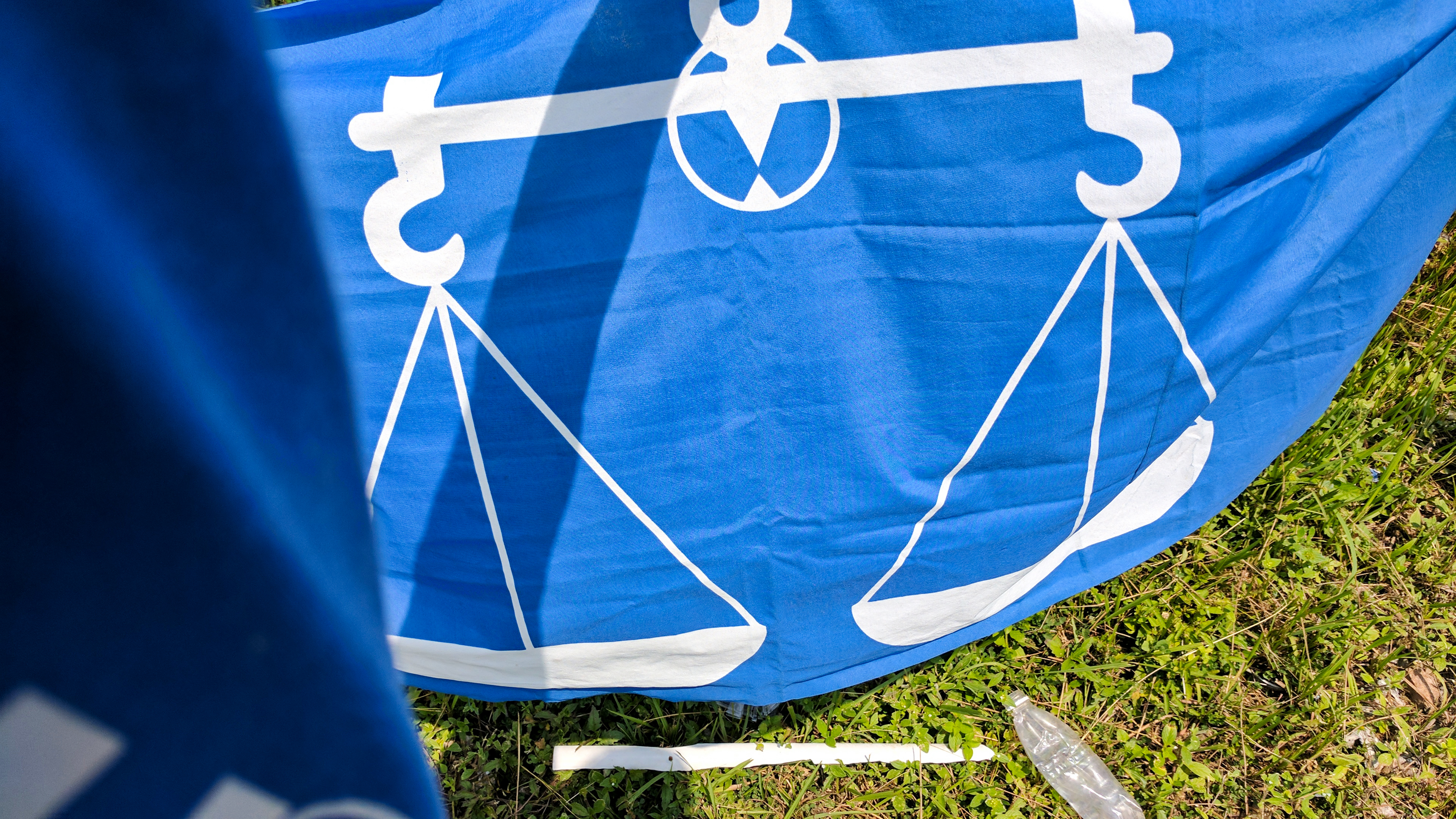 One of the many very interesting things that I saw driving around Malaysia is that Malaysians are much more likely to hang their state flags rather than the national Malaysian flag. State flags were everywhere.
However, as I drove around Northeast Malaysia, I started to see other flags everywhere, including these blue flags. They definitely weren't the state flag for this part of the country. They were something much different.
They were strung up 10-30 at a time, usually hanging on bridges or at busy intersections. After I saw a second string of them hanging up, I thought, "What exactly are those? If I see them again, I'm going to pull over and take a closer look."
I didn't have to wait very long.
A few miles later, I pulled over, took a picture of one of the flags, and ran an internet search. This flag is strikingly similar (thought, not 100% identical) to the logo of Barisan Nasional, the largest political party in Malaysia. They've completely dominated Malaysian politics for much of the past 40 years. In fact, when I asked people what the flag represented, a few people said, "that's the flag of the government", instead of saying that it was a political party flag.
The scale is supposed to represent the balance of power. However, to some people, I believe the scale also represents something else: Shariah Law. The party promotes Sharia Law, which is a very radical Islamic belief that the Koran should replace existing laws. Recently, the state in Northeast Malaysia passed a law to allow public caning for sharia crimes.
Of course, if any religion – including Christianity – were to replace existing law with the strict guidelines from their holy book, there are going to be more than a few differences between existing and holy laws. In the case of Islam, Sharia Law is completely incompatible with democracy, basic human rights, freedom of speech, freedom of thought, freedom of religion, and gay rights.
Then, there are women's rights, or lack thereof. Some examples of how Sharia Law treats women are:
a woman's testimony is worth half that of a man's in court
men are encouraged to beat women, and the Koran protects them from having legal recourse taken against them
child marriages are extremely common
raping women is allowed, especially providing the rapist marries the woman that he raped.
women usually inherit half what a man does from a family member's death
the possibility of being a legal sex slave
and much, much more
Certainly, I wasn't in America anymore.
With all that said, in my 40 days in Malaysia, I never saw any Muslims behaving badly towards anybody. In fact, the two closest friendships that I made from Malaysia was with a Muslim woman and her Catholic boyfriend. They lived together, which was a secret she had to keep from her family.
I was told Kota Bharu has the highest percentage of Muslims in Malaysia. When I went there, I saw an all-female vendor market. I was told there's something in the Koran that speaks of Mohamed's wives selling things at the market. For generations, these female vendors have walked in their footsteps. Everybody seemed to respect them and treat them like anybody else. I also saw female police officers.
After being in their country for a relatively short time, I won't pretend to understand all of the ins and outs of Muslims in Malaysia. From what I saw, they seem like good people to me.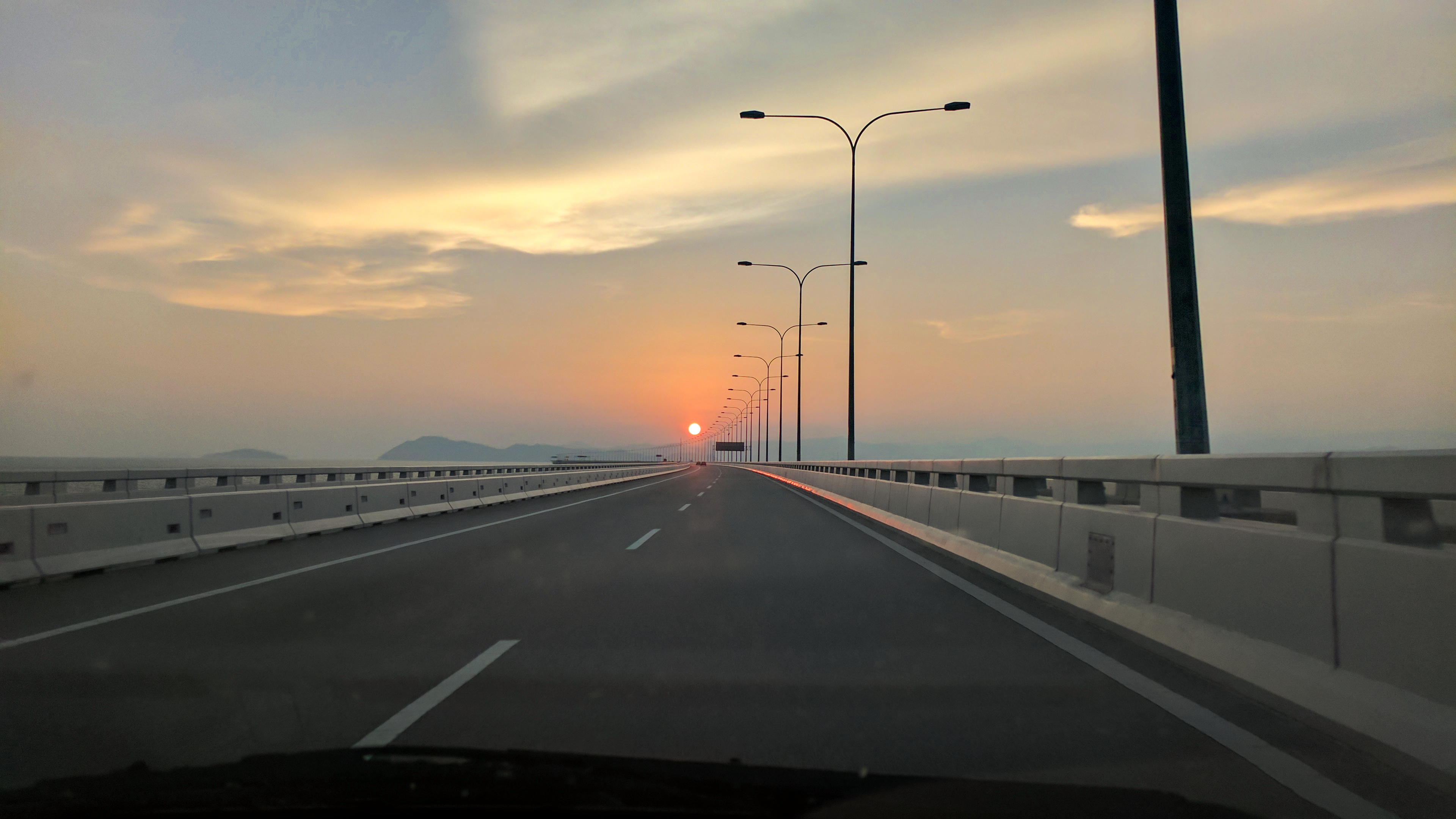 Sunset going over Sultan Abdul Halim Muadzam Shah Bridge
Watching this beautiful sunset while going over this bridge was the last thing I saw before returning my car to the airport in Penang. It's the longest bridge in Southeast Asia. The total length is 24 km (15 miles), while the length over water at 16.9 km (10.5 miles). The next time somebody says "that distance is too far for a bridge", just tell them about this incredible bridge in Malaysia!
View stories and pictures #1 – #11
View stories and pictures #12 – #22